And now for something completely different.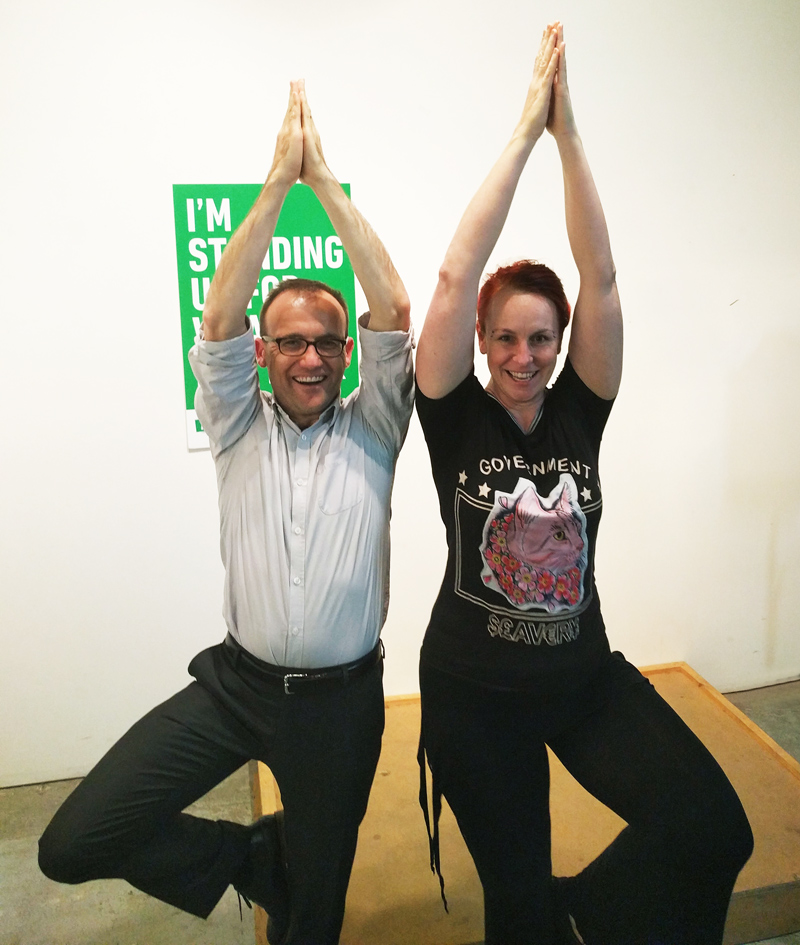 (well, slightly different... I can slip yoga in anywhere!)
So you might have heard,  there's an election happening on July 2.
I've been a Greens voter my whole life (from my earliest leanings as a forest activist back in my uni days) but for some reason this election I felt the really strong urge to do more. I went along to an early election meeting and had a bit of a chat afterwards with Adam Bandt, the federal member for Melbourne. Turns out, his partner is a yoga teacher, and thus he's not unfamiliar with a bit of asana! To help out with the campaign, I asked if he'd be willing to strike a yoga pose with me to share with our community, and he was very obliging, as you can see above!
This upcoming election is a very important one, as the polls are running pretty much 50/50 between the major parties. With enough awareness raised, this year we have a chance to elect not just one but potentially several more Greens to parliament, and I've taken on the extra personal commitment to help out with the Greens campaign this year, for the first time - and the TFD studio is about to become a part of to the North Melbourne doorknock campaign!
If you are already a Greens voter, I urge you to consider taking an extra step this year to help out with the campaign, it could make a massive difference to the election outcome (yes, even just you!). There's a very wide range of activities you can help out with, and not all of them involve knocking on doors or making calls - there's lots of data entry and other roles that can really help make a difference this year. And even if you can't do that, I would encourage you to try and have a few conversations about the election, especially with friends or family members who might be unsure of what their vote can achieve, or who may be open to changing an existing alignment in the wake of the urgent need for action on environmental, economic and social fronts - all of which I firmly believe The Greens are the only powerful voice for genuine equality and a prosperous future. 
Apologies if politics isn't your bag, but I do feel this is the most important election we've seen in some time, and could really be the best chance we have in Australia to start undoing some of the damage of many years - much like the way can we rehabilitate our bodies with yoga after years of poor posture and bad habits.
So if the above has enthused you, we would love to see you at the studio this Sunday May 15th at 10. 30am, where we will be kicking off Doorknock training and then hitting the pavement to have some conversations with folks in the area about what they'd like to see for their future. Will you join us? Sign up for the event at the link below if possible so we have an idea of numbers, but you're also welcome to show up on the day if you're not yet sure if you can make it. Hope to see you Sunday!
http://www.adambandt.com/nm_dk_may15
xox
Cass