New trial membership offering - 1 month for $50!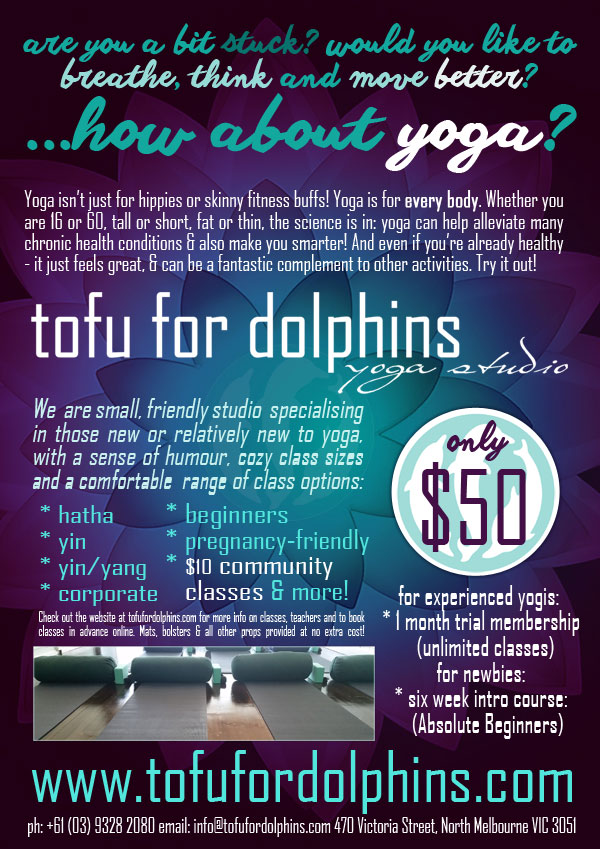 We've had some feedback from students during our first fledgling months, and based on this feedback we are changing our trial membership offering! A number of students have told us they haven't felt the 10 days was enough time to experience a range of classes and to begin to develop a consistent yoga practise or "get back in the habit". Thus we are changing from $20 for a 10 day trial ($2 per day), to $50 for a 1 month trial (only $1.60 per day, and so many more of them!)
We're looking forward to giving you a chance to experience TFD with a longer lead time and with the studio more established, so even if you've taken a 10 day trial or a Beginner's Course already, you are are welcome to sign up for the new 1 month trial offer as well. This offer is available online or in the studio; to book online choose the "1 month trial membership" package option when you book you first class.
For ongoing classes, we're making some changes too. Student/concession rates are now even better value - $15 casual, and 25% discount on memberships and class cards (in person purchase only, please provide student ID or concession card). We hope these prices will fit within your tighter budget and allow you enjoy the benefits of yoga even more.
Last but not least, we have a very special offer for early supporters of our new trial membership offering. As with any new business, it can take a little while to reach a critical mass, and we are no exception. So to help get us to that point, for a very limited number of members (20 to be exact!) we'd like to offer you the chance to take up a foundation membership. This will allow you to renew your monthly membership at the same rate as the trial membership - indefinitely. This membership cannot be suspended, and if you cancel and wish to return at a later date, standard membership prices apply. This offer is open ONLY to the first 20 students taking up a 1 month trial membership and requesting to renew, so now is definitely the time to jump on this. Feel free to contact us if you have any questions.
Namaste and see you soon!
Cass @ TFD