Spring Fling Open Day! FREE CLASSES and Special Offer for former students!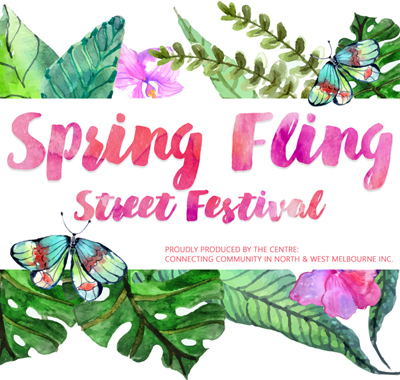 Tofu for Dolphins Yoga Studio is proud to be a part of Spring Fling 2016! Spring Fling is North Melbourne's annual street fair, and TFD is right in the action zone with our part of Victoria St being closed to traffic and opened to stages, street stalls and pedestrians for the whole day! You can see the Spring Fling website here for all the amazing events and maps of the festival so you can find your way around.
We're opening our doors for the occasion with great abandon to allow you to experience our friendly and quirky classes for our very own contribution to the festival: Spring Fling Open Day!
Registration for our Spring Fling Open Day classes is possible before the date and are now open, simply sign up for any class labelled "Spring Fling Open Day" on October 16 using the package "Spring Fling" and the code "SPRING" - all classes for this date are free so this is a great chance to encourage friends to try us out! Or sign up on the day, if places are still available. There is also a Q&A for which registration is not necessary.
Schedule:
10:30am-11.30am: Slow Flow with Rachael
12pm-1.00pm: Thai Yoga (Ruesi Datton) with Cass
1.15-2.15pm Yoga Cuppa Q&A with Cass
2.30pm-3.30pm: Yin Yoga with Cass
4.30-5.30pm: Yin/Yang Yoga with Sarah
Also - Special Offer for Lapsed Foundation Members!
If you've been busy/tired/sick and we haven't seen you in a little while, this would be the perfect opportunity for us to say hi again and reboot your yoga practise for springtime - and also for this one day only, we are offering to re-enable Foundation Memberships if you might have let yours lapse - starting 16 October with no extra payment owing for the time in between. We are now requesting that Foundation Memberships be paid by online monthly subscription though, to minimize confusion about monthly payments. We can set this up for you on the day.
We hope to see you this coming Sunday, October 16!