Spring time is almost here - announcing TFD will be returning to Burning Seed this year! Plus New Order theme for GY this month :)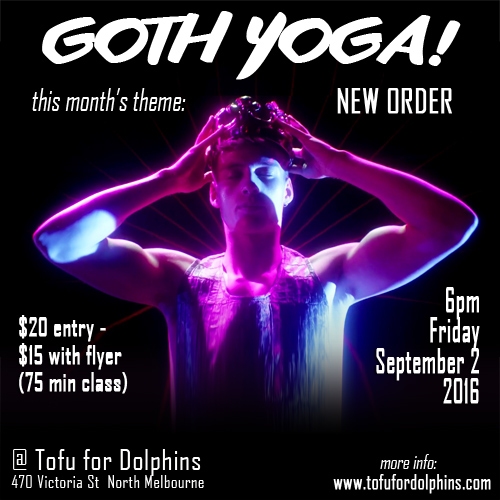 Hello folks!
It's sure been a cold few months - except for the days that haven't been (like that warmest August night on record) and we've seen the studio quieten down quite a bit during the winter, as expected.
But spring is just around the corner - next week in fact! For our spring September Goth Yoga we will be featuring the classic sounds of New Order, and make sure you come down this month because, early warning we will NOT have a Goth Yoga for October - this is partly because Cass will be away for the end of September/beginning of October at the already sold out Burning Seed festival - if you are lucky enough to have already secured a ticket, make sure you circle Cass's classes in your What Where When when you get it! Make notes now if you really don't want to miss out, or in case you don't get a WWW: Cass will be teaching 3 sessions of Yin/Yang Yoga from 8.30am-9.30am at Soul-A-Flare theme camp on Thursday, Friday and Saturday! We were spilling out past the camp boundaries last year for each session with anywhere from 20-30 attendees on each day, so make sure you come early or BYO mat if you have one, to secure your place.
Also just letting you know that our Nicole is away for a few weeks on a big research trip in Europe and her classes are being covered by the very lovely SJ and Ornella in her absence - give them a big welcome if you can make it along to any of the classes they are taking for Nic if you can.
xo
Cass