THREE new classes and TWO new teachers this week!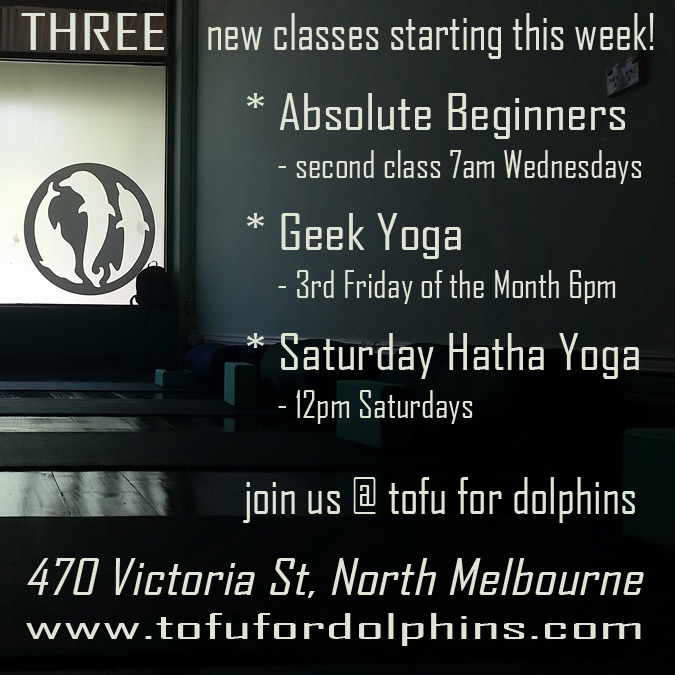 Such excitement! We have three new classes running for the first time this week, and two wonderful new teachers joining us.
Catherine will be starting 7am on Wednesdays teaching Absolute Beginners - and our 6 week course is going cyclic due to student request! Several people have wanted to begin when the course is half-way through and we've changed our delivery to accommodate - this means you can begin the Absolute Beginners 6 week course (for only $50!) any time - you can even attend multiple cycles of the course for the same rate if you aren't yet feeling confident and want to revise the basics before beginning open classes. We're also offering two classes a week as of this week with Catherine starting, so if you can't make one you can attend the other - if there are spare places you are also welcome to attend class other than the one you're booked for if you have a one-off schedule clash or illness.
The second class which is running the first time this week is a new monthly class for those of you who work in an office environment and would like to give a little love to those parts of your body most affected by sitting at a computer for hours on end - your neck, shoulders and back. We'll do a little work on hips too, but focusing primarily on spinal mobility. This is an open level class very suited for complete beginners too. What's this class called? Why, Geek Yoga of course!! You will find Geek Yoga offered every 3rd Friday of the month at 6pm with Cass.
The third class joining the schedule this week is a new weekend class on Saturdays from 12-1pm, and is an open level Hatha Yoga class with Matthew, a freshly qualified yoga instructor itching to share his new skills and love of yoga with you.
We hope you are as excited by these additions to the calendar as we are! See you soon :)
Cheers
Cass @ TFD