Two weeks in - Goth Yoga first class this Friday & more classes soon!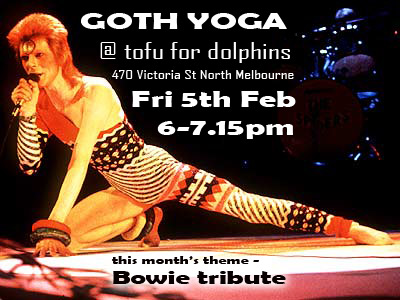 Hi everyone! Thought it was about time after two exciting weeks since our official opening, to get this blog off the ground!
Firstly, I'd like to thank everyone who's come to practise with us so far, it's been wonderful to meet lots of lovely local yogis and newbies too! We all hope you've enjoyed the first few classes, and really appreciate any feedback you might have or suggestions for improvements or requests!
We've got some additions to the schedule coming very soon, and with anything up to 5 new teachers potentially beginning over the next month or so and really filling up the schedule - each week we'll post about any new additions coming and anything else to note.
This week we are very excited to be introducing our very first monthly "Goth Yoga" class, to be held every first Friday of the month, from 6pm to 7.15pm. This class is ALL about the music, though there might be some different emphasis in poses too (think moon instead of sun saluations, for a start!) - book online in advance and you'll have the option to ask for a favourite track to be included in class - we can't guarantee that we will play it but we'll do our best!
Goth Yoga is an all levels Hatha yoga class and is VERY beginner friendly! So if you like your soundtrack for stretching a bit on the darker side, definitely don't miss this one. We'll be dedicating the first class to David Bowie, who's music has featured in goth clubs since they first existed, and who's amazing otherness has always championed the different and the left-of-centre. Did you know he was a keen meditator and almost became a Buddhist monk, but his teacher told him his music was a better way to serve? One of his last wishes was to have his ashes scattered in a Buddhist ceremony in Bali. He will be very sorely missed. Don't worry if you're not a big Bowie fan - there will be other music, but Bowie will be featured.